Hey all,
Since I don't have any new releases this week, I thought I'd pick one of my favorites and share a little bit about it. My first accepted book and the one closest to my heart. The Mylari Chronicles: Eyes of Fire.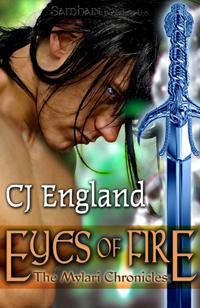 Here is the blurb about the book itself...
An ancient prophecy comes to life in the erotic tale of the forbidden love between an elven prince and a kidnapped human woman.
Talia's visit home turns upside down when dark, frightening creatures appear seemingly from nowhere and transport her to another world. The faerie world. In this mystical paradise, she finds her life and honor threatened for reasons she does not understand.
When Calion Sáralondë, Prince of the Calen'taur Elves, rescues the human female from an orcan stronghold, his attraction to her is immediate and strong. And the feeling is mutual. Though their love is sardai—taboo—Calion can't bring himself to send her back to her world. Her presence sets a fire in his soul only mating with her can tame.
And their passion could be the answer to an ancient prophecy that saves his world.
A perfect 10. A forbidden love that creates a wonderful emotional rollercoaster ride. A must read.~~~Romance Reviews Today
A most sensational book! An action packed, amazing erotic fantasy story. A recommended read.~~~Dark Angel Reviews
An enthralling story. Magical places and characters so memorable it's impossible to forget about them. A recommended read.~~~Fallen Angels Reviews
An exceptionally wonderful story that will have the reader spell bound by the intricate details, complex yet lovable characters and a story that is pure gold!~~~Love Romances and More
This is my number one selling book, and almost daily I get emails from fans wanting to know more. And I plan to give it. Sword of the Paladin is in edits and as soon as I have a release date, I'll be posting it on my website. For more information and to read a blurb, go to EYES OF FIRE
And please let me know what you think!!!
Hugs,
http://cjengland.com
http://groups.yahoo.com/group/CJsaysFollowYourDreams/