Hey all,
Sorry I missed last week. I was working and just got too stressed for time. But I'll make it up and share two this week. Two short novellas that I think you'll enjoy.
First off is my short sexy story about sensual massage. I got the inspiration from a how-to book I picked up at a yard sale. I fell in love with the idea and Touch Me, Tease Me was born. Check it out...
Gabrielle Rousseau has worked hard to put her unfortunate past behind her. She's finally doing what she loves, making her documentary and teaching lovers the benefits of sensual massage.
When the new owner of the studio, Clint Braddock walks in on an afternoon filming, he thinks he's walked into a skin-flick. Sparks fly and his instant judgment of Gabrielle and her work creates a barrier between them.
But there's also instant attraction and it's only when he discovers why she is so gun shy that he is able to push past the walls surrounding her heart. But will Gabrielle hold on to her fear and refuse to trust a man again? Or will Clint be the one to finally touch her battered soul and tease her into loving again?
And the reviews were great. Here's a couple to wet your appetite...
Another fantastic story from the prolific CJ England. The funniest scenes I've ever read, A short, but engaging tale.~~~
Ck2s Kwips and Kritiques
Touch Me Tease Me will spark the passions in anyone who reads it. CJ England is all about "SIZZLE"! She has done it again in this book.~~~Sensual Reads and Reviews
Now we have this week's release... One of my favorite stories. I grew up and was taught to ride by a true cowboy and cowgirl. Homer and Vera Farra where both famous in their day. Homer did rodeo and was used in movies as a wrangler and stunt man. Vera introduced pants to women rodeo riders! She was inducted into the Cowboy Hall of Fame in 1979.
So let's just say I had some great teachers. This story was inspired by my rodeo days. I hope you'll enjoy it.
Sierra Rawlings loves to work, ride, and play hard, but it's her hidden desire for neighbor, Dalton Grant, that really keeps her on her toes. But she needs her independence more and his habit of bossing her around is too much to bear.
Three years ago, Dalton thought he'd roped and gentled Sierra. One night of passion under the stars had him thinking of forever, but even as he made his plans, she ran from him, and he'd never been able to comprehend why.
The annual summer rodeo brings them together and their hidden desires flare hot. But just as they are beginning to understand each other, a dangerous opportunity arises, forcing Sierra and Dalton to learn a painful lesson about trust. It's time for these two stubborn people to cowboy up and admit their feelings, before anger and a bull named Body Bag steal their last chance away.
And this story had it's share of great reviews. Here's a sample...
COWBOY UP is overflowing with emotions, where unforgettable characters will rope you into their powerful romance.~~~Ecataromance Sensual
A phenomenal foray into the rodeo world and an absolute MUST READ for any fan of romance.~~~
Ck2s Kwips and Kritiques
There you have it! Some more great stories to warm you up! Grab your ice water and fire extinguisher. This is your only warning! *smile*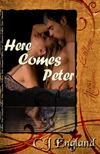 Follow Your Dreams