Hey all,
Today I have one of my all time favorite stories to share. It addresses an important issue, as do the other two books in the series.
Date rape is a horrible crime, and one that largely goes unreported due to the shame and fear of the victims. Our society needs to stop acting like the victim did something wrong and put the blame on the person who perpetrated the act.
In the book, Second Chances: Waiting in the Wings, I bring a little of that to light. The pain, the fear and shame, and the confusion. For Callie and Jordon, they were lucky. After what happened to them, they still managed a happy ending. But for many who go through this trauma, they struggle with it for the rest of their lives.
Because I felt so strongly about it, I decided that 50% of my royalties will be given to
RAINN
, an organization who helps the victims of rape. In this small way I hope I can make a difference.
Interested in knowing more? Check out Second Chances: Waiting in the Wings...
A night of betrayal, passion and pain turns two lives upside down.
What if one moment of unexpected passion turned into a night you that would haunt you forever? When Callie Jacobs meets country music sensation Jordon McKenna, the mutual attraction between the two make sparks fly. Then, she awakens the next morning, a victim of a new date rape drug.
Can Callie and Jordon sift through the betrayal and lies to find the truth? Will they ever be able to trust each other enough to have a second chance at love.
Ms. England should be applauded for how she delivers this poignant story about date rape.

~~~Ecataromance Sensual
An incredibly moving, poignant, emotional and even sometimes harsh look at the world involving rape. A Blue Ribbon Favorite.~~~Romance Junkies
CJ England has written her most powerful story to date. A Recommended Read.~~~CK2S Kwips and Kritiques
A book you cannot put down, one that really pulls at your heart strings.~~~Enchanting Reviews
I curtsy to you, Ms. England, for a supreme job on this subject matter and for everything you are attempting to do to draw attention to this matter.~~~Dark Diva Reviews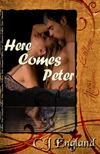 Follow Your Dreams