Hey all,
This week I have a great short story for you. My first vampire story. A sweetly romantic, yet sexy thriller about a centuries old vampire who finds the one woman who will sustain him for eternity.
This short story was the first one I ever had in print and I still remember how it felt to hold MY first 'real' book in my hands. I love the e-book format and read them more than print books right now, but there is just something about holding the printed word.
I hope you enjoy this peek at this great paranormal romance...
Enjoy!!!
Sebastian is an ancient vampire who has lived in the forest for centuries living off the blood of any unwary villager who happens to cross his path.
Teran has grown up in the shadow of the great forest, unwanted and unloved. When she comes of age and her loveliness sparks the interest of the men in town, her life becomes even harder.
When the vampire rescues her from a near rape, he finds himself enthralled with her beauty and her quiet courage. Teran falls in love with the brooding stranger, but when he breaks his word and steals her mind, she runs from him.
But Sebastian can't forget her and vows to win her back. Will Teran forgive him? Will they have a chance at eternity forever?
An emotional, heartbreaking rollarcoaster ride of a story.~~~Robin
This story will stay with you long after you put the book down.~~~The Romance Studio
A stunning story which speaks to the heart of the reader.~~~Ecataromance Sensual
Crank up the air conditioning for this one as it's hot hot hot!!~~~CK2S Kwips and Kritiques
A exquisite story of life and love.~~~Romance Junkies
PS: Will Carrie and SharonJM please send me an email. I don't have your addresses, but I have a question to ask you. Thanks!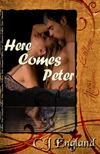 Follow Your Dreams