Hey all,
I want to thank you all again for coming and reading this story. It was so much fun to write. I love the FREE READS because you all give me such immediate feedback. You've no idea how helpful that is. I've taken it into consideration many times when writing--both the FREE READ and my other books.
But sometimes good things have to come to an end, and so it is with Hustle Into Love. Mace and Chantal might be back. Who knows what the future will bring? They might show up in a sequel or as guests in someone else's book. You never know.
I do hope you enjoyed reading about Macau and all its exotic locals. The casinos, the restaurants, the people and the scenery. Living there while writing about it was amazing.
I also hope you learned a little more than you did before about Human Trafficking and the horrible stranglehold it has on many countries. It's a cancer on our world and only by working together can we make it stop. Do what you can to help in any way you are comfortable. Every little bit helps!
Now, today's main purpose is to announce our contest winner. This person has been with me for a while now and I was very pleased when Jonathon picked her name out of the hat. She will win her choice of one of my published books, plus a couple of treats to say thank you for reading.
BUT, before I announce her name... (HA HA...Made you wait!!!!) I wanted to let you know what will be going on with this blog.
I'll be taking a short hiatus to concentrate on other things, then I'll be back with another story. At this time it may be a republishing of a newsletter story OR a new one. It all depends on the time I have to write. I've got some exciting opportunities I have to deal with in the next few months so I have to give them priority at this time.
That doesn't mean I will forget about you all. I love doing this and wish I had time to do more. And though being sensible isn't my strong suit, I'm trying. LOL
So, look for another FREE READ to begin sometime in April. I'll post more when I know exact dates. Deal? Okay!!!!
Now let's announce that winner. (Should I stall a little longer????) No. Okay. Then here we go!!!!! Run your curser over the line below to see our winner! (I know...I like to make it hard. Ooops! Did I say that aloud??? LOLOL)
ASHLEY!!!!
See you next time! Bring a friend and we'll enjoy a romantic read together! Until then, keep track of my comings and goings on my
WEBSITE
. All the news will be there for you! WooHoo!!! And don't forget to pick up a copy of
Here Comes Peter
. A perfect spring book to celebrate Easter!!!
Hugs,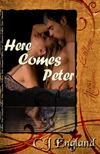 Follow Your Dreams